Serpentinite is a metamorphic rock that is mostly composed of serpentine group minerals. Serpentine group minerals antigorite, lizardite, and chrysotile are produced by the hydrous alteration of ultramafic rocks. These are igneous rocks that are composed of olivine and pyroxene (peridotite, pyroxenite). Serpentine group minerals occur less commonly in some olivine-bearing marbles (ophicalcite) and kimberlites, but these rocks are normally not considered to be serpentinites.

Serpentinite from the Troodos ophiolite in Cyprus.
Serpentinites form as a result of serpentinization. These are chemical reactions which convert anhydrous ferromagnesian silicate minerals (pyroxene, olivine) into hydrous silicate minerals (serpentine) plus some other possibilities like brucite and magnetite. Brucite forms if the precursor rocks are rich in magnesium (dunite, for example). Magnetite forms if there is enough iron present (pyroxenite). Usually serpentinite contains iron in the form of magnetite which gives dark color to serpentinites.
Serpentinite is probably very widespread rock deep below, but not nearly as common in the upper parts of the crust. Here it occurs mostly where ultramafic rocks occur (ophiolite complexes). Serpentine minerals along with other green-colored alteration minerals (talc and chlorite) are still pretty widely distributed because olivine and pyroxenes are readily available in many places. Serpentinites has been important sources of asbestos, but nowadays the use of asbestos has diminished considerably because of health concerns.
These concerns may actually be greatly exaggerated because there is not much good evidence that chrysotile (serpentine asbestos which makes up more than 90% of all asbestos mined) poses any significant risks to our lungs. The danger associated with asbestos comes mostly form amphibole asbestos minerals, but it is hopeless to assume that the fearmongering media would take the trouble and educate themselves and their readers about the different types of asbestos minerals. So, we continue to see dangers in harmless amounts of chrysotile asbestos in floor tiles while we neglect or happily tolerate far more important health risks like fast food and lack of physical exercise (which kills millions every year).

Serpentinite where the dominant serpentine mineral is fibrous chrysotile. The sample is from the Sayan Mountains in Siberia. Width of sample is 8 cm.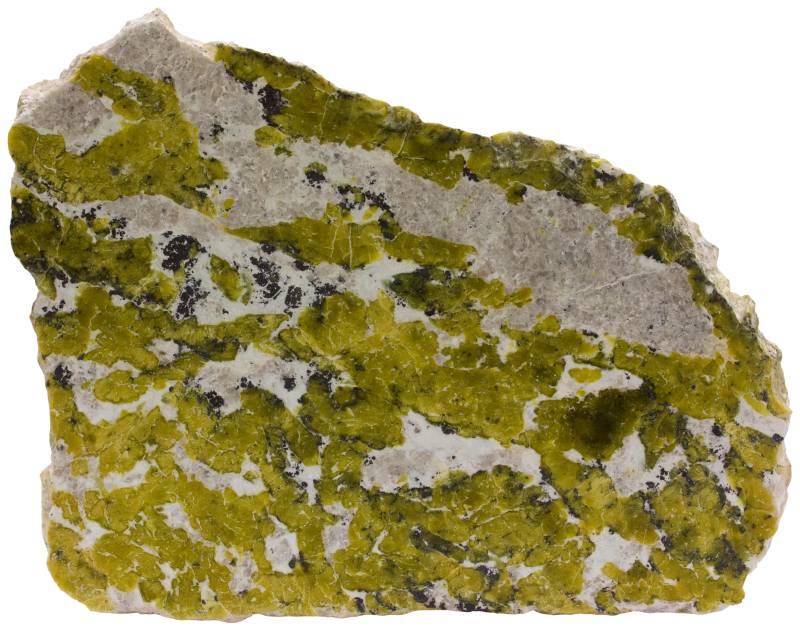 Serpentinite (green) with white magnesite from Norway. Serpentine and magnesite may occur together if there were enough carbon dioxide available during the metamorphism to form magnesium carbonate magnesite. Width of sample 24 cm.

Serpentine-rich skarn sample with hedenbergite (iron-rich Ca-clinopyroxene). Serpentine in skarn may form if the carbonate host rock is dolomite that provides lots of magnesium to form magnesium-rich silicates like serpentine minerals. Tapuli, Sweden. Width of sample 13 cm.