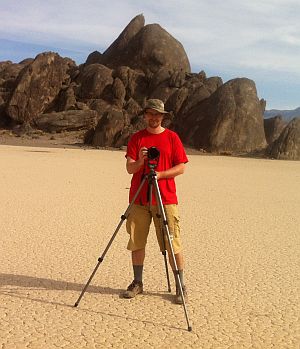 Sandatlas is an informational website focused on sand, rocks, minerals, etc. In general, the materials our home planet is made of. The photos and text on this website belong to Siim Sepp. He is a geologist (PhD student) and nature photographer from Estonia.
The aim of Sandatlas is to explain geological concepts with the help of illustrative materials, mainly photos. Sandatlas is also eager to promote geotourism by providing free information about locations of geological importance worldwide.
Sandatlas can be followed via RSS, e-mail or twitter (@sandatlas).
You may use the photos from Sandatlas.org for educational purposes or for non-commercial projects without asking but attribution is required: Siim Sepp (www.sandatlas.org). Please make the link (to the page from where the photo was taken) clickable if you use the photos on the Internet. However, only non-commercial use is free. You may purchase Sandatlas' photos from Alamy for commercial projects or you may also contact me directly.
The Privacy Policy of Sandatlas specifies what kind of personal data is collected by the third party vendors used by this website. You can follow the guidelines provided to opt out from any kind of tracking by these services.
Feedback from the readers
I just want to say that your site is a great resource for my lectures
of late. Thank you for posting the high quality images of rocks and
minerals.
Siim – I love your web site…it is very informative and beautifully
illustrated.Thank you for creating it.
Wondering if there is a book with these pictures. These photos are so
clear and true it would make a wonderful field guide.
I am sending my intro physical geology students (all non-majors as we
have no geology major) to your site to check out some of your
metamorphic rock posts. I will also pull some of those up tomorrow
during lecture. I just want to say: "Thank you" for your posts and
great images. My class would be significantly worse without your site.
I am a teacher in Spain and came across your site while researching
types of rock to teach my class. I wanted to thank you for your
beatiful photographs and extensive information.
Hi, I'm a complete amateur in geology, but fascinated by the visual
charm of rock formations. Your site is a treasure!
I'm the physics lab technician at a local community college. I'm a
trained chemist, not a geologist. So I've been teaching myself about
geology. I'm finding your website to be immensely helpful. Among other things,
it's very readable.
LOVE the site with all the greatest information on it!
I am a geo of some 40 years, and am currently involved in identifying
resources for high-school kids keen to study geology / rocks and
minerals. What a fabulous resource you have built; congratulations!
Your Sandatlas website is particularly clear and informative. I'm a
geologist and am impressed with your presentation – I can aways learn
something there. Many thanks for the effort to construct this.
Just wanted to say thank you for such a great site.
I just wanted to say thank you so so much for your wonderful website,
which is very imforamtive and easy to understand and read and I
enjoyed my experience here very much.
Your website has superior imagery of rocks. I would like permission to
use your rock images in my lecture presentations and class handouts
for my college courses. May I have your permission to do so. I will of
course cite you website.
Amazing source of information, very well written, great photography.
Many thanks from Amsterdam.
I just want to thank you for making this website. It is easy to read
and understand and the photos are great!
I hope you continue to add to this valuable resource.
You guys just rock the subject! Images are so damn clear. Do you have
articles regarding Metamorphic processes and Plate Tectonics?
These pages was a true revelation for me! Thanks a lot 🙂
Hi, stumbled on your website today looking for information on
limestone and shale in anticipation for a trip to the Canadian Rockies
next month. There so much great information and wonderful photograph
examples here! Just wanted to thank you for your great work.