What is silica? How is it related to sand? What does it mean that silica sand is made of quartz? It is not difficult to answer these questions but unfortunately the websites I checked contained some erroneous information which needs to be sorted out.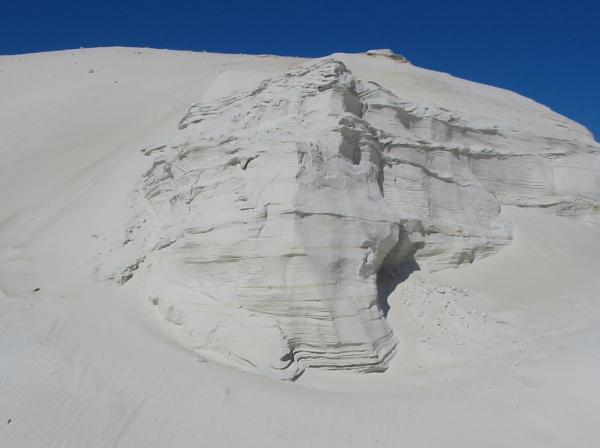 Siliceous Devonian sandstone in Estonia.
Silica or silicon dioxide (SiO2) is a chemical compound consisting of one silicon and two oxygen atoms. Quartz is a common mineral with the same chemical composition but quartz and silica are not synonyms. Specific minerals always have a definite crystal structure while chemical compounds have no such restriction — just like every piece of carbon is not a diamond. Quartz is made of silica but so are also cristobalite, tridymite and few other minerals (polymorphs of silica). They are collectively referred to as silica minerals.
Quartz is the most common sand-forming mineral. However, it is not the most common mineral in the crust. That honor goes to feldspars. If the particular sand deposit contains almost nothing but quartz, we often call it a silica sand. Such sand deposits are said to be mature because other rock-forming minerals are already broken down by the weathering process leaving only the super-resistant quartz as a residue. Silica sand is a mineral resource. It is mined mostly for glass-making. Another major use of sand is a concrete production but that does not need sand to be as pure.
Some beautiful beaches are made of silica sand. Beach of Siesta Key in Florida is especially famous for its white sand. Not all white sands are made of silica, though. White Sands National Monument in New Mexico is a dune field which is composed of sand made of gypsum. There are lots of light-colored beach sands around the world but many of them (especially in low latitudes) are made of small pieces of corals and other sea creatures. This sand is calcareous (composed of calcium carbonate) but some biogenic grains are siliceous as well. For example radiolarians (ameoboid protozoa) and diatoms (algae) have siliceous shells.
Sometimes sandstone is said to be siliceous. What does that mean? It may be a sandstone which is cemented by the silica minerals quartz or chalcedony (cryptocrystalline quartz) or it could be a sandstone which is composed predominantly of silica minerals (although sometimes feldspars are included). So you really need to dig deeper and ask critical questions if someone is talking about a siliceous sandstone as its meaning is not immediately obvious.

Beach sand in Siesta Key, Florida is almost pure silica sand (composed almost exclusively of quartz grains).